Intrepide in his working clothes after running with cows outside.
Very Limited quantity of semen
is being offered for sale from Intrepide from 1st August 2017. Semen will be priced at £80 per straw
plus VAT and transport, there is no pedigree semen royalty.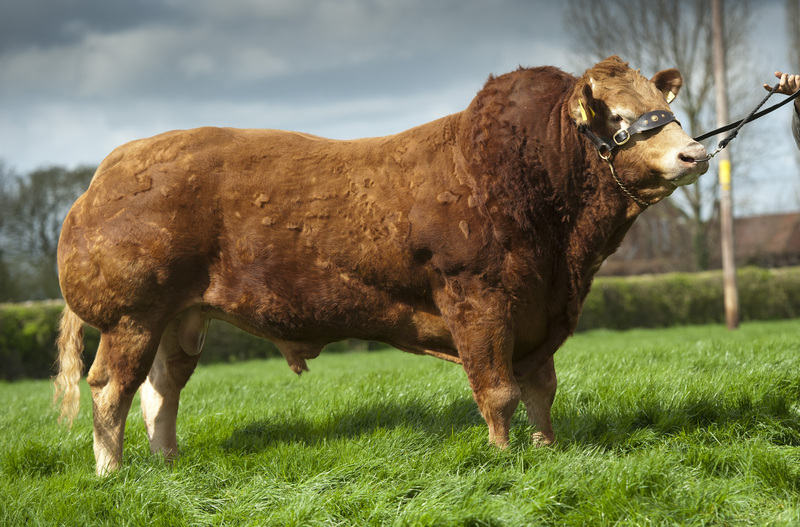 Irish Male National Champion 2011
Producer of well muscled modern limousins that are ideal for commercial show calves and producing weaned calves.
£18/straw on semenstore.

For orders direct this semen is available from just

£3/straw delivered!!
For more information call 07799 884951
Progeny images can be seen on herd sire page.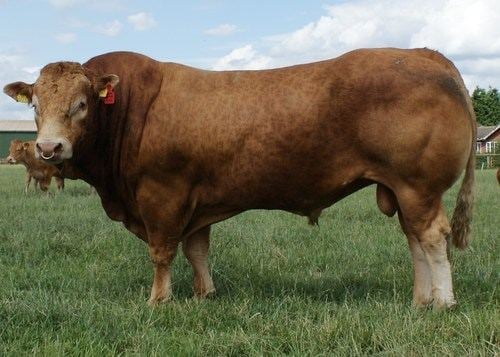 Pictured in summer 2009
Easy Calving (top 1% for Calving Value)

Short gestation (top 1% for Gestation length)

Superb temperament (5 star rated in Ireland)

Available for Worldwide distribution.

Suitable for heifers.
Carries two copies of the F94L 'profit' gene!!
Well proven with progeny across the country and the world.

From just £6 +VAT /straw delivered *
Alistair produces well balanced, technically sound stock that are fast growing and easy fleshing with good breed characteristics. His daughters are particularly nice and breed extemely well.
There is a pedigree royalty of £40/registered calf.
Conventional semen is £20/straw (plus VAT and distribution) on semenstore.co.uk or if ordered direct we offer 7 staws for the price of 5!
Commercial quantities:
Alistair has excellent qualities for commercial and dairy usage providing suberb calving traits, having super short gestation and easy calving which means lower labour and veterinary costs, lower mortality and improved fertility. For commercial beef farming Alistair provides good quality docile stock that are easy fleshing with excellent DLWG.
For dairy herds the calving qualities and short gestation means fewer cases of required intervention and means less milk days are lost per cow and easier calvings means cows get back in calf quicker. This will save you effort, money and reducelosses.
Can you afford to use a long gestation, hard calving bull?
We offer conventional semen in larger quanitites at signicant discount to DIY AI'ers , suitable for dairy or commercial use.
For order of 20-40 straws it is £11/straws + VAT
For 40-60 straws, the price is £8.50/straw + VAT
For orders of 60 – 100 straws we are offering semen at £7.50/straw + VAT
For 100+ straws, the price would be just £6/straw +VAT,
These prices are delivered to your

field flask

within the price!
At £6/straw delivered, can you afford not to use Milbrook Alistair?
Terms:
For all semen sales made direct, payment must be cleared before authorisation can be given to release the straws from Cogent, who shall deliver the semen on our behalf. This is invoiced directly by ourselves (can be by post or email) and payment can be made by cheque or BACS.
Overseas enquiries:
Overseas enquiries are welcome. Enquiries can be made through semenstore.co.uk or directly to ourselves. The semen qualifies for worldwide distribution and has already been exported to North America (sexed semen) Greenmount College Northern Ireland, New Zealand and Australia.
Questions & Answers:
Where is the semen stored?
The straws were taken and at Cogent UK at Chester but following notification that Cogent were unable to continue the collection and storage of third party bulls we were forced to move the straws over to UK Sires who continue to professionally store the semen.
How is it delivered?
Straws ordered directly through us are delivered directly by UK Sires..
How much is delivery?
If you have a field flask and order a significant quantity then package and delivery will be within the price. For small quanities there is a delivery charge of £30 and £10 for package. For Genus there isnt the delivery charge but there is a charge of £2.75/straw plus the £10 package. Consult your AI company for charges.
Is the semen good quality?
We were told by Cogent upon collection that the semen was of excellent quality and report back have been positive.
How old is the semen?
It was taken October/November/December 2008 and stored professionally by UK Sires
How do I order this semen?
To order straws from us, simply email us on

[email protected]

or telephone 01757 288218/289256 with your requirements (or for a quote) and it can be processed easily and quickly with emailed invoice and electronic payment (BACS) or alternatively invoiced through the post and a cheque can be sent. Once payment is cleared then the straws will be authorised to be released and sent promptly.
How long will it take to get it delivered?
UK Sires advise that it usually takes around 10 days to two weeks to deliver the straws, depending on your location. This can be longer depending exactly where you are. If you need the straws particularly quickly or for a particular date then be sure to inform us when ordering and we will do our best to organise this.
Milbrook Alistair Progeny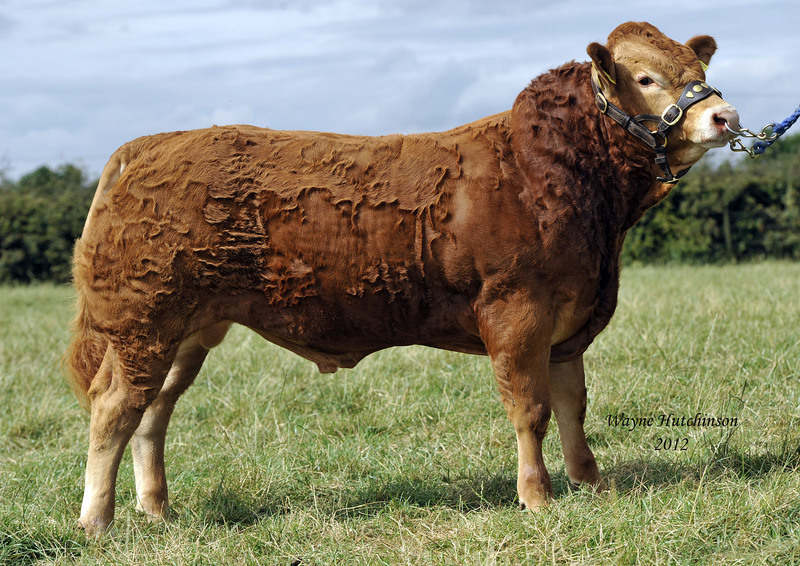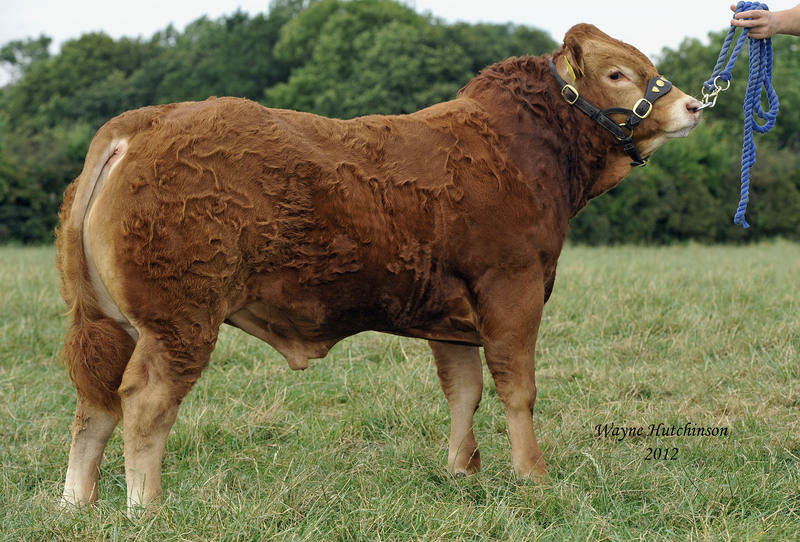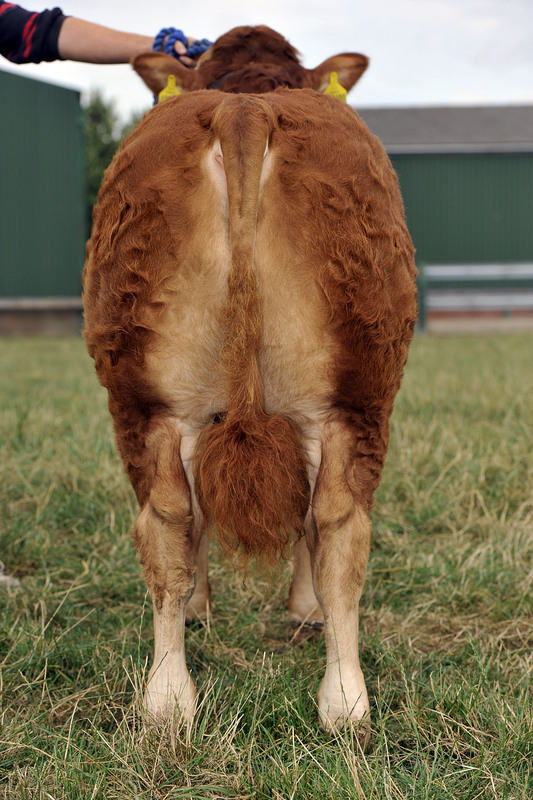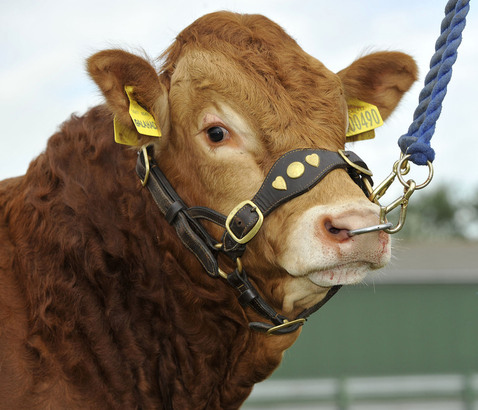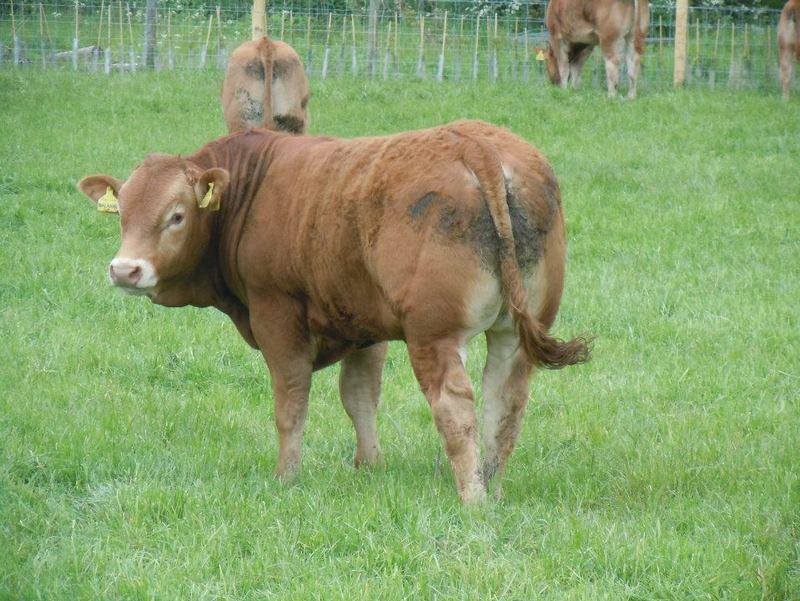 Elderberry Galahad, Milbrook Alistair son sold into AI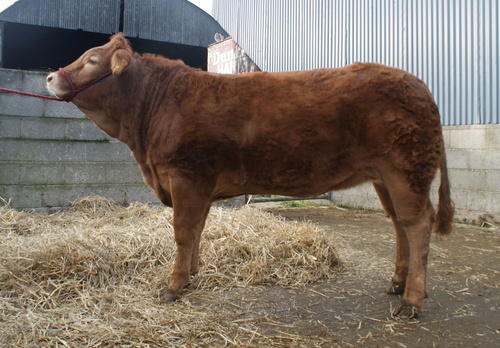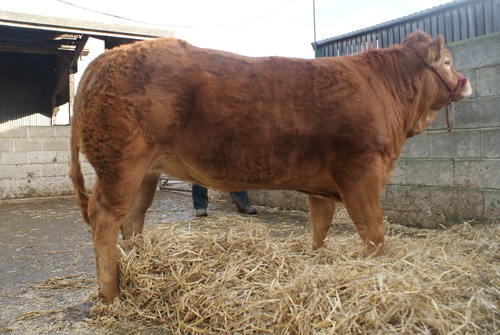 Elderberry Evette (Daughter of Alistair) (Dam: Elderberry Antoinette) DOB: 06/01/09. Photo taken 25/11/09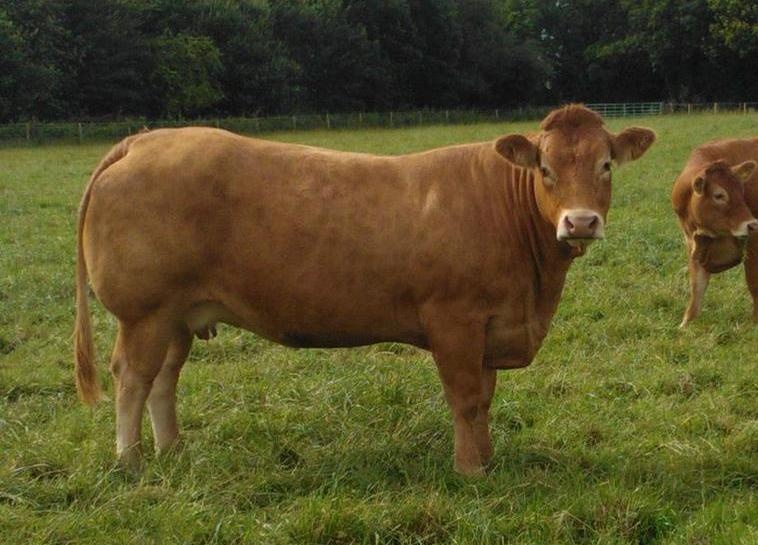 Elderberry Evette aged 3 1/2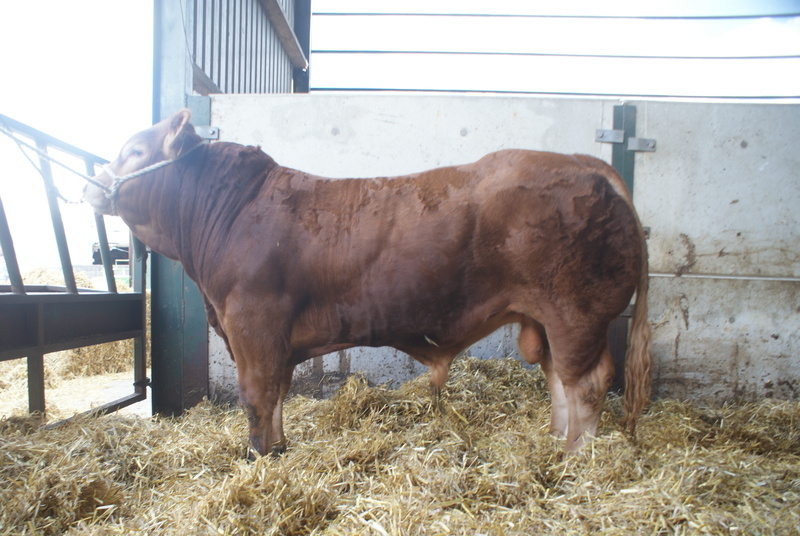 First calf from Elderberry Evette who is by Alistair. Aged 12 months.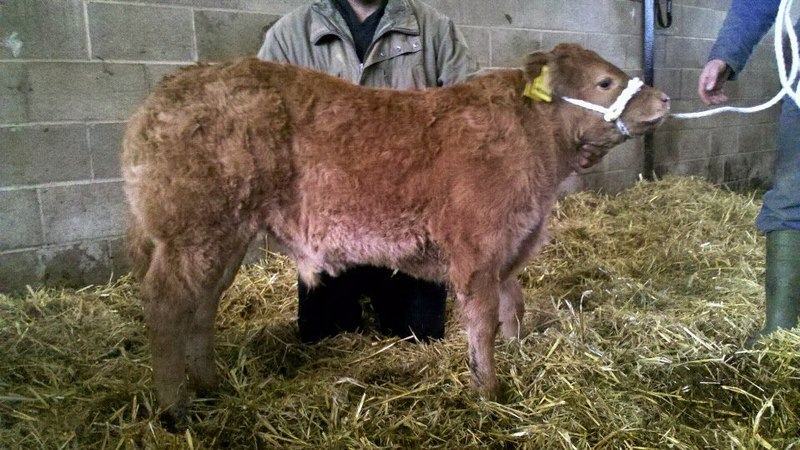 Second calf from Elderberry Evette, aged 6 weeks 1 day.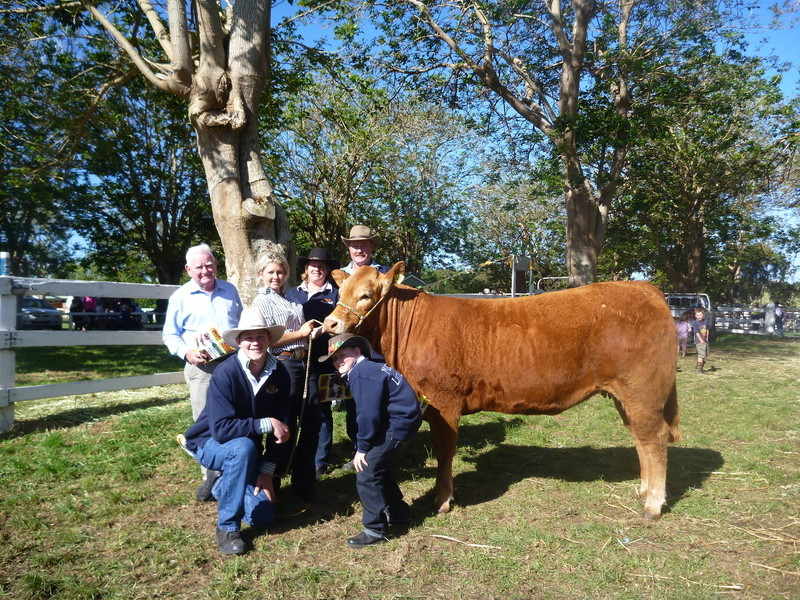 Willow Park Finesse, Alistair daughter sold in Australia for $18,000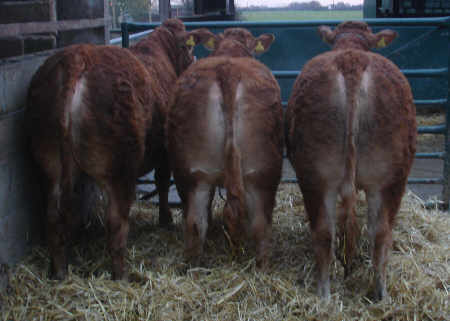 Alistair's first three daughters:
Elderberry Demelza (26/01/08) Elderberry Daniella (08/02/08) and Elderberry Dawn (23/01/08). (Picture taken 13/01/09)
Milbrook Alistair was purchased for €16,000 at Roscrea Premier Sale March 2007 making him the highest priced Limousin bull through auction in Eire in 2007. He is a son of the famous Domino and out of the hugely successful 'Tulipe' dam line at Milbrook that has produced several All Ireland Heifer champions. He is a long, docile and well balanced bull and was bought for his combination of looks, figures and deep pedigree.
His progeny have good conformation and high growth rates post weaning. His first daughters are showing all the characteristics you would be looking for in a quality female. Alistair's Irish figures for muscle are top 1% and he is also rated five stars for docility. His English figures for Calving Value and Gestation Length are both top 1%. Indeed his calving ease is superb on both cows and heifers with calves born with low weights, unassisted and are on their feet and drinking remarkably quickly.