Young bulls in the yard.
Currently have a large selection of young bulls in the yard ready for work and many more following behind. These are sired by -
Jupiter
Intrepide
As well as AI sires-
Mereside Jester
Balinloan Jaegerbomb
Netherhall Jackpot
Fenrir

Elderberry Oklahoma



Elderberry Oakland

Elderberry Northerner

Elderberry Napoleon

Elderberry New Kid On The Block & Elderberry Nashville Pp

Elderberry Nobby

Elderberry Nashville Pp

Elderberry North Star & Elderberry Nizlopi

Elderberry Nizlopi

Elderberry Nirvana

Elderberry North Star & Elderberry Ned Kelly

Elderberry Night In Vegas & Elderberry Nigel

Eldebrerry Nigel
Bulls currently available :
Elderberry Nigel (22/01/2017)
Jupiter x Giroflee
Giroflee is a huge french female with a lot of milking ability. Her pelvis is near perfect. Nigel is tall long and correct and would be an excellent choice to breed quality replacement females.
Elderberry Nashville Pp (16/06/2017)
Netherhall Jackpot x Elderberry Jade Pp (Farfelu)
Hetero Polled, Hetero NT821, a heifers calf.
Elderberry Nirvana (19/06/2017)
Mereside Jester x Joalia-ben (Haldo)
2 copies of F94L. Sire is very easy calving, dam has a remarkable pelvis.
Elderberry New Kid On The Block (6/07/2017)
Fenrir x Joueuse (Daimant)
Dam is half sister to Fenomen, a real cow breeding type of bull with a wide square pelvis and natural power and width. 2 copies of F94L
Elderberry Nizlopi (21/08/2017)
Ballinloan Jaegerbomb x Gazelle (Casimir)
Carries 2 copies of F94L gene from a stylish Casimir female.
Elderberry Nobby (2/11/2017)
Elderberry Galahad x Elderberry Francoise
Excellent natural growth combined with extremely easy calving and short gestation genetics.
Elderberry Ned Kelly (10/11/2017)
Fenrir x Buchette
Alongside his 12 year old dam he was the winner of Best Cow and Bull Calf in the 2018 NELBC herd competetion.
Elderberry Napoleon (18/12/2017)
Intrepide x Eline (Usse x Remix)
First born son of Intrepide. Eline is a powerhouse of a female with natural width and power, a wide pelvis and very high milking ability. Her maternal pedigree being Usse x Remix gives her huge maternal index. Napoleon is the best grown young bull that we have bred.
Elderberry Northerner (21/12/2017)
Intrepide x Graphite (Castor)
Graphite was imported from Luxembourg and represents a good outcross option. Northerner is a sweet stylish and long Intrepide son.
Elderberry Oakland (4/01/2018)
Intrepide x Thomastown Isabelle (Wilodge Goldcard)
Growing into a super young bull, this is an Interepide son from a Wilodge Goldcard daughter who milks well and has a very level and large pelvis.
Elderberry Oklahoma (13/02/2018)
Jupiter x Elderberry Lauren (Engy)
Another very stylish and well grown Jupiter son from first calving heifer who by the Maternal bull Engy and from Elderberry Harmonie who is a Sympa daughter of Eline, combining style power and milk, an excellent dam line.
Bull weighed 604kg on 24th Jan.
Plus many more.........
All types, various prices, please call for more details and to discuss your requirements.
01757 288218
07799 884951
A selection of bulls sold recently-
Elderberry Moonshine SOLD PRIVATELY
Jupiter x Elderberry Imogen
Dam is a first calver by maternal french AI sire and former herd sire Engy.
Elderberry Moophrate SOLD PRIVATELY
Euphrate x Gazelle
Good mixed type of bull with a good balance of size and muscle with good legs.
Elderberry Mars SOLD PRIVATELY TO LINCOLNSHIRE
Mars is a superb young bull with length and width and is bred by the french AI sire Hamac. The dam was also dam of Elderberry Jupiter below.
Elderberry Max SOLD PRIVATELY TO CO. DURHAM

Elderberry Musician SOLD PRIVATELY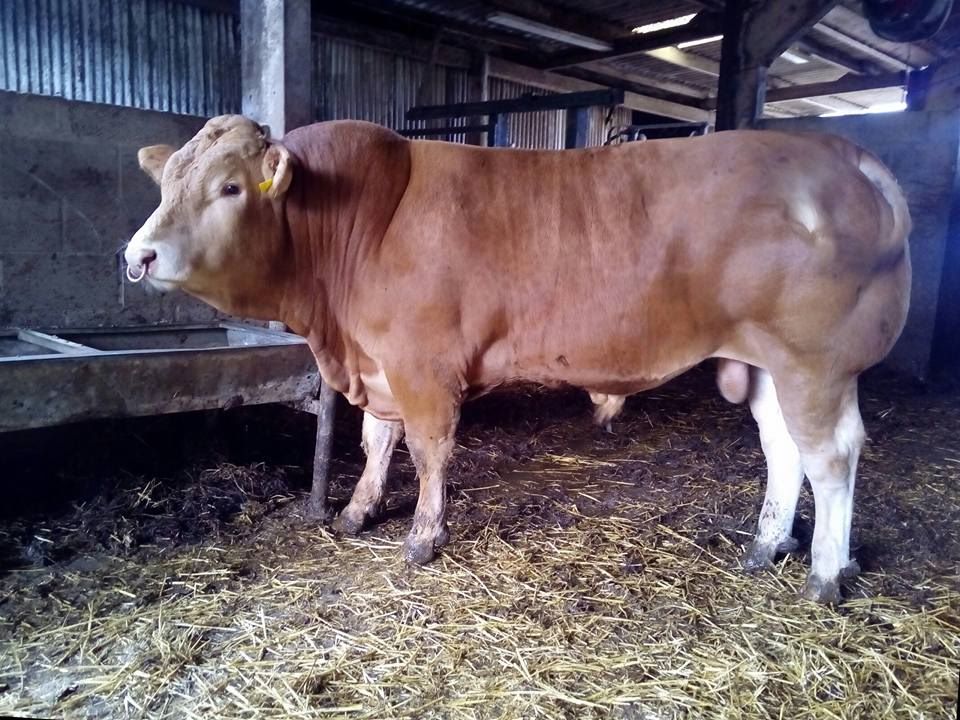 Elderberry Maverick SOLD PRIVATELY AT 11 MONTHS.

Born end of April '16, this young bull is showing good width and style and is a son of a french stockbull Impair who was injured on the lorry over to the UK and subsequently only got a handful of cows in calf. Impair is bred by Queyrol-Biterrelle and is a son of Eclair - a new bloodline. Impair showed in the small number of calvings to be very easy calving. The dam is a Sympa daughter of Usse daughter Eline who is wide and powerful and has plenty of milk as does her daughter. We hope to keep this bull breeds fine show type progeny for his purchaser Richard Stevenson..
Elderberry Malc SOLD PRIVATELY

March '16 born. Malc is a another son of Impoli. Malc is a more refined with fine bones but has still grown well with good weights. The dam is Columbie who is good honest cow that always breeds a good calf and also bred Elderberry Henry below. Sold locally for commerial breeding.
Elderberry Magnum SOLD PRIVATELY

The best bull of the pen, stylish and refined and full of breed charachter. He is one of only two sons of Hamac in UK (other is also at Elderberry). Hamac is an AI sire who sold to Italy for 17,000EUR in 2014 at the French National Show in Limoges. He was a bull with extreme length and balance and breed charachter with perfect legs and feet and walked out just as you would want with free movement. We didn't hesitate to try a small quantity of his semen and he has left us with the best bull of his crop and the likewise with the female calf. The third calf from him was a bull calf born in September 2016 and coming along nicely. Hamac has been gene tested to carry calving ease, muscle and milk. Magnums dam is Elderberry Evette - the best daughter we ever bred from super easy calver Milbrook Alistair. She is from a quality dam line, her dam was Elderberry Antoinette by Goldies Terence and her sister was Reserve Overall Champion at the Red Ladies Derby at Carlisle some years ago. Evette has so far bred Elderberry Gump (below) and Elderberry Halogen (below) as well as Elderberry Jeanette who's photo is used to promote french AI sire Engy in France. Magnum in our opinion is a bull of pedigree quality. Good luck to Messrs Bourn in Lincolnshire with him.
''Elder berry'' - SOLD AT YORK MULTIBREED


'Elderberry' is a pure bred unregistered calf by Elderberry Jan (below) and out of Elderberry Juliette who is a Sympa daughter of Grenoiulle who is 3/4 sister to Etudient. Sold at York Multibreed March 2017 for second top price 3,200.
Lys - SOLD PRIVATELY
Lys is a polled bull who was bought at the foot of his mother at the dispersal sale of the great herd of Alain Hillaire in France. He is by Hercule P and out of Gazelle who is by the French National Show Muscle champion Casimir and out of the best cow in the herd. Because of the sire Lys is a late maturing type of bull with a good pelvis and very long.
Elderberry Lagavulin - SOLD PRIVATELY
Lagavulin is a son of new sersia AI sire Dieunordic and out of Darrilla who has many sons sold for breeding (below). Sold to North Yorkshire for commercial calf production.
2016
Elderberry Jupiter - SOLD PRIVATELY
Sold at 19 months. Jupiter is a son of french AI sire Chaumeil, a son of Objat. He is the first calf of quality French female Galaxie from the herd of Daniel Peyrot.

Elderberry Jedi SOLD PRIVATELY
Elderberry Jedi is another son of AI sire and Objat son Chaumeil and out of the strong french female Fontaine.
Elderberry Jan - SOLD CARLISLE OCT 2015



Born 10th April 2014 (as pictured below that went on Facebook) Elderberry Jan is a son of Irish National Male Champion Newtown Freeman and out of Coquette, a strong french female line who is powerful and wide with an abundance of milk. She is extremely easy calving and her progeny are consistenly good quality with exceptional growth rates every time, including Jan himself who has shown great natural growth.Coquette (dam) is one of the quietest cows on the farm and Jan is also very docile.
Jan carries 2 copies of the F94L gene so calving ease will be superior to the signet figures. He carries a beef value of 36!

SOLD PRIVATELY TO GLOUCESTERSHIRE
Elderberry Irville DOB
An excellent later maturing type bull with good beef and maternal merit. A son of french AI sire Urville and out of french cow Darrilla who is sired by twice national male champion champion bull Verdi and also dam of Elderberry Heinz below. Sold for commercial breeding.
SOLD PRIVATELY TO SCOTLAND
Elderberry Idaho DOB 30-03-13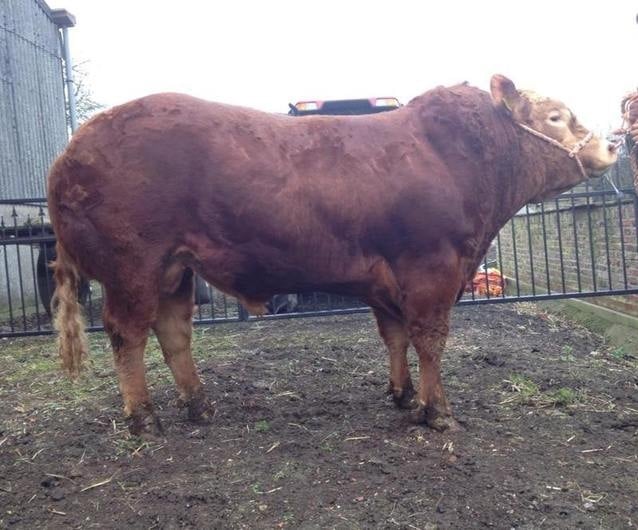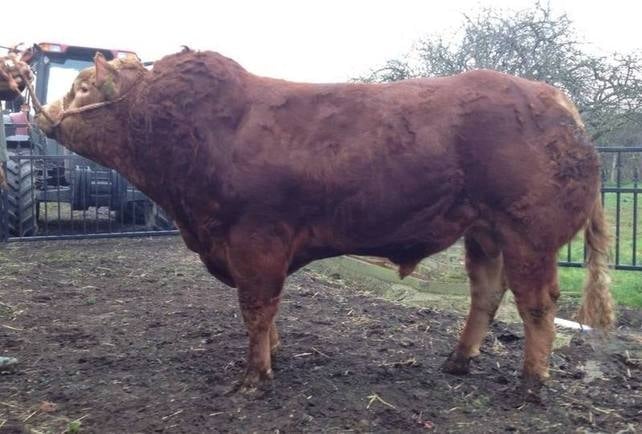 This is a son of Branceille (Objat) out of a Wilodge Vantastic x Ronick Luke daughter who also bred Elderberry Hawaii (profile below). Bred for style, muscle and calving ease. His temperament is very good and stands on strong legs. Sold to breed commercial show calves.
Elderberry Independence SOLD PRIVATELY

This young bull is also by Branceille (Objat) out of one of our best female lines on the farm. He is the first calf off Elderberry Frederique who is a quality Tastevin daughter of french cow Catarina who is an exceptional female that bred Elderberry Hobgoblin (profile below) that sold privately to a pedigree herd. Catarina is a true pedigree cow - large, powerful, stylish and wide with good legs, a perfect pelvis, a lot of muscle, a great temperament and an ubundance of milk.
Elderberry Heinz SOLD PRIVATELY



Elderberry Heinz is a son of Plumtree Deus and out of a French cow by Verdi. Sold for commercial breeding,
Elderberry Halogen SOLD PRIVATELY
DOB 01/10/2012


GS: Wilodge Vantastic
S: Newtown Freeman
GD: Newtown Trixie
GS: Milbrook Alistair (Domino)
D:Elderberry Evette
GD:Elderberry Antoinette (Goldies Terence)
Elderberry Hitman SOLD PRIVATELY
DOB: 09/10/2012

Another son of Newtown Freeman out of a French heifer who is by renowned sire Remix.
Selection of 2013 sales
Elderberry Hematite SOLD PRIVATELY
DOB: 22/05/12
A son of Plumtree Deus and out of French female Emeraude who is by Ulys MN and out of the same dam as new French Sersia AI sire Chatalein (Urane by Neuf) and can be seen here http://www.sersia.fr/fr/index-viande/fiche.php?id=1208099630. Sold privately in september for use on purebreds.
Elderberry Hawaii SOLD PRIVATELY

DOB: 05/03/2012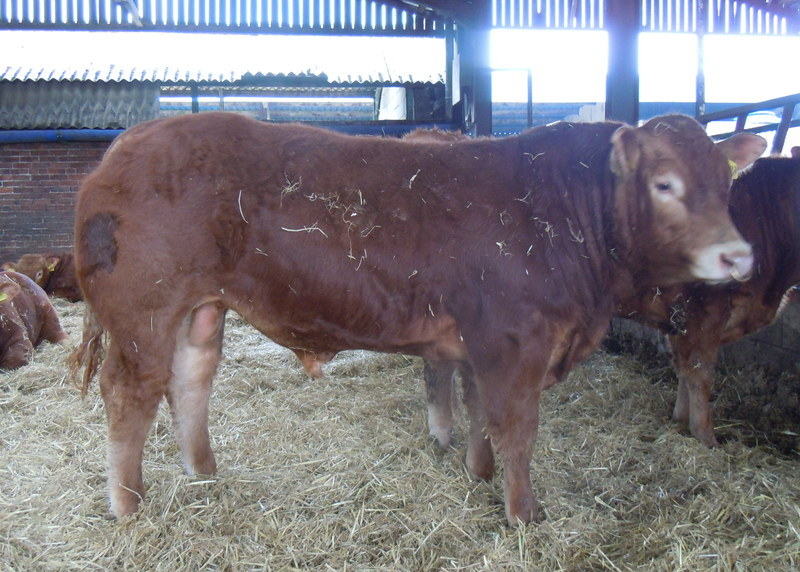 Photo taken April
gs:OCTOPUS
s:SYMPA
gd:OPERETTE
ELDERBERRY HAWAII
gs: WILODGE VANTASTIC
d: ELDERBERRY ELOUISE
gd: SHERRY UNIS (ggs: ronick luke)
Calving Value 94
Maternal Value 96
Beef Value 107
Weights (Adj) 200 - 319kg 300 - 459kg
Elderberry Hawaii is a stylish, long, clean and hard muscled young bull with light bone. This bull has the potential to be a breeder of show calves. Muscle score EBV of 115 and Maternal calving is 119. He is sure to throw stylish, lean, muscular progeny.
Elderberry Hobgoblin SOLD PRIVATELY FOR PEDIGREE BREEDING

DOB 28/02/2012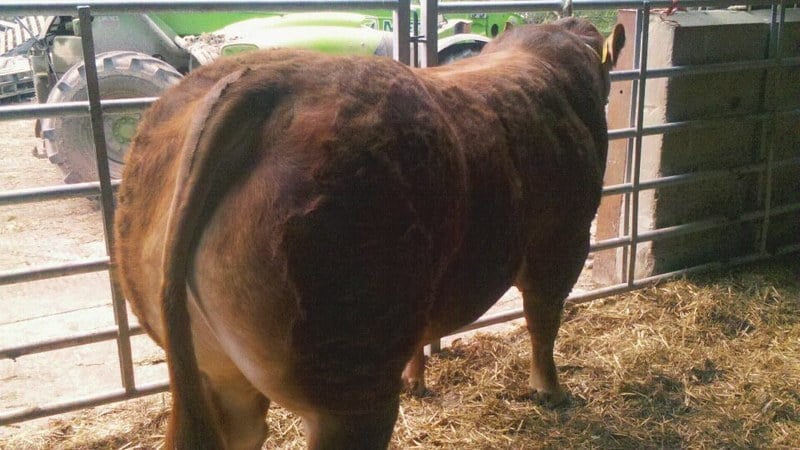 gs: NESTOR
s:BIAL
gd: TATIA (ggs: Ionesco)
ELDERBERRY HOBGOBLIN
gs: AMICAL
d: CATARINA
gd: TONIA
Calving Value 72
Maternal Value 115
Beef Value 114
Weights (Adj) 200 - 407kg 300 - 595kg
This young bull has extremely good width, thickness and growth. Despite his (his sires) calving figures, he was born easily and unassisted. He is very good on the plates and would be an excellent calf breeder or for putting thickness and pelvis into females. His index for muscle depth is 126 and his 200 day growth index is 127 and Maternal Calving of 111. He brings new genetics to the UK. Bial (sire) offers huge figures in France for growth, muscle and carcass conformation. The dam is a large, beefy female with very good milking ability and her first daughter Elderberry Frederique (by Tastevin) is a quality breedy heifer that is being retained in the herd. A quality young bull with a lot of potential.
Elderberry Hurricane SOLD PRIVATELY
DOB 04/01/2012

gs: SCAPIN
s: URVILLE
gd: OXANE ( ggs: Domino)
ELDERBERRY HURRICANE
gs: SAMY
d: ELDERBERRY ELSA (ET)
gd: SHERRY URICKA (Jockey x Rake Terence)
Calving Value 107
Maternal Value 97
Beef Value 113
Weights (adj) 200 - 368kg 400 - 676kg
This young bull is very long and well grown with an excellent pelvis. He would be very suitable for replacement female production. Urville (sire) is well proven in France to inject size, milk and production value into his daughters. Due to the limited data in the UK, his maternal figures do not yet reflect the reality of the bloodline. Will certainly put size and milk into replacements.
Elderberry Havana SOLD Carlisle June Bull Sale
DOB 01/02/2012


gs: UVERGNY
s: BAKOU
gd: TATA
ELDERBERRY HAVANA
gs:TOUCAN
d:BUCHETTE
gd:VIRGINIE
Calving Value 98
Maternal Value 108
Beef Value 100
Weights (Adj) 200 - 363kg 300 - 526kg
Havana is from an excellent dam line. We imported Virginie (g.dam) Buchette (dam) and then later her daughter Eva (pictured below) from France. The family have real quality with power and width on the plates. Havana has good growth and offers a balance between beef and maternal traits. This offers new genetics to the UK and is entered for Carlisle June bull sale.

Elderberry Henry SOLD PRIVATELY
DOB: 19/04/2012

gs: DOMINO
s: MILBROOK ALISTAIR
gd: MILBROOK TOYA
ELDERBERRY HENRY
gs: ARMAGNAC
d: COLOMBIE
gd:VIOLAINE (ggs: Highlander)
Calving Value 138
Maternal Value 104
Beef Value 106
Weights (Adj) 200 - 365kg 300 - 532kg
Smart well grown calf by the calving trait leader Milbrook Alistair. Long and very docile with breed character.
Elderberry Horatio SOLD PRIVATELY FOR COMMERCIAL AND PEDIGREE BREEDING
Sired by the French AI sire Urville, Horatio has excellent growth and is very well made with great breed character and power. Out of a quality ET homebred Samy daughter Elderberry Esme.
Bulls sold in 2012 and before-
Elderberry Galahad
(Milbrook Alistair x Highlander)
Private export sale at 8 1/2 months to Dovea Genetics AI, Eire.
Pictured at 10 1/2 months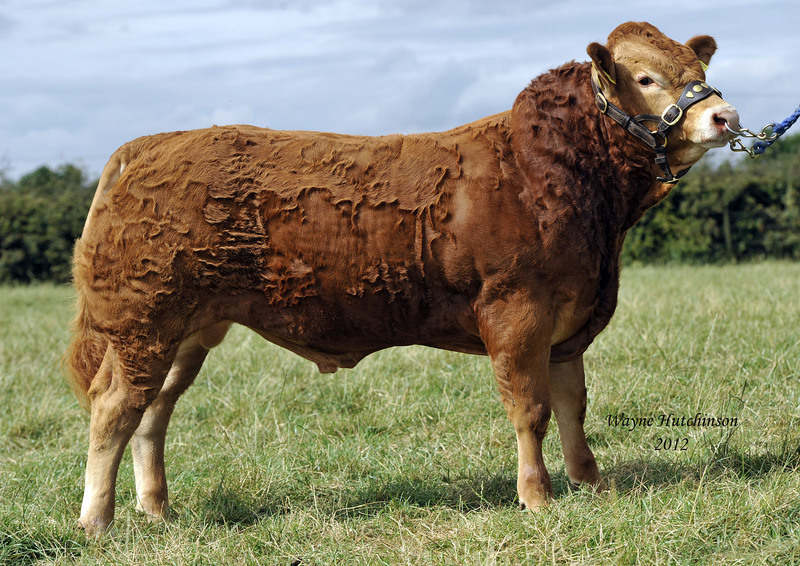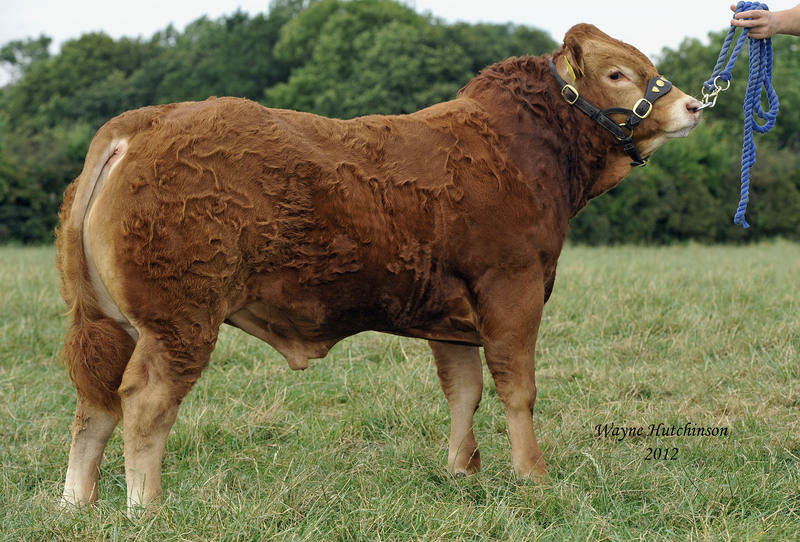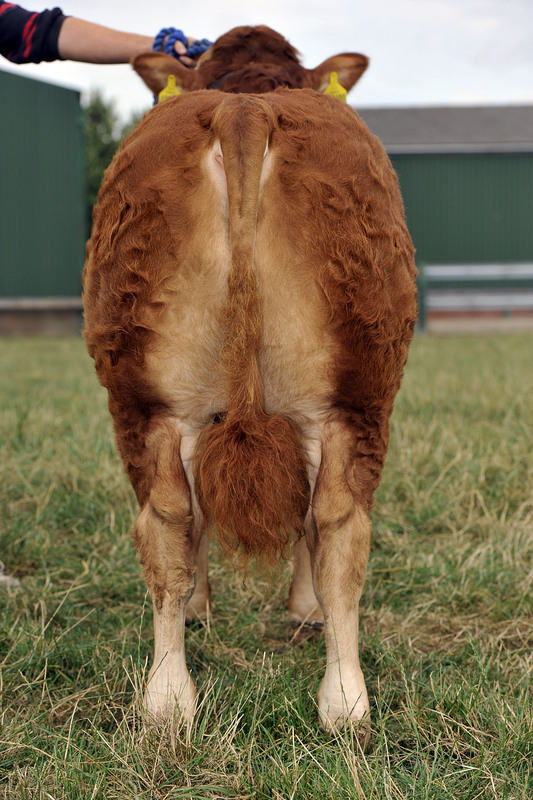 This is by far our biggest achievement selling Galahad to Irish AI company 'Dovea Genetics', our first bull to enter an AI catalogue. We are very proud of this achievment and are pleased to hear that he is already widely used in Ireland, with high demand for his easy calving genetics. Can be seen here http://dovea-genetics.ie/beef-sires/limousin/
He is now being rated as Ireland's easiest calving commercially available Limousin sire with calving difficulty at just 2.00%! First progeny are looking excellent in Ireland as well as in our own herd.
Elderberry Gump SOLD PRIVATELY FOR PEDIGREE AND COMMERCIAL BREEDING
Breeding- Sympa x Milbrook Alistair x Goldies Terence
EBVs (Index)
Calving Ease 99
Mat Calving Value 101
Gestation Length 124
Calving Value 115
200 day growth 134
400 day growth 131
Muscle depth 127
Beef Value 130
200 day Milk 104
Maternal Production Value 130
Maternal Value 123
Pictured at 12 months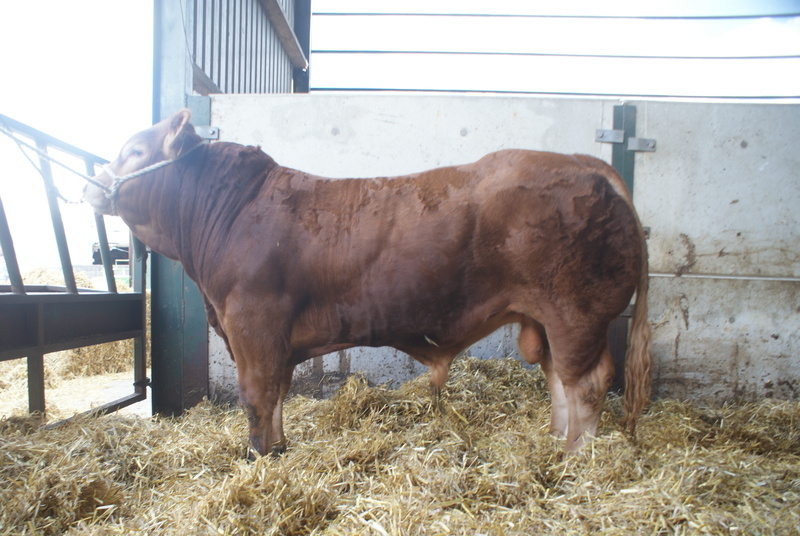 Elderberry Gambler
(Milbrook Alistair x Frewstown Ojo)
Sold privately to commercial suckler herd, joining his two Elderberry bulls bought previously (7 and 6 years ago)


Elderberry Gambler EBV figures

Bulls sold in 2011
We have sold young bulls in 2011 by Milbrook Alistair, Grahams Poncho, Wilodge Vantastc, Rocky and Grahams Unbeatable.
Elderberry Eragon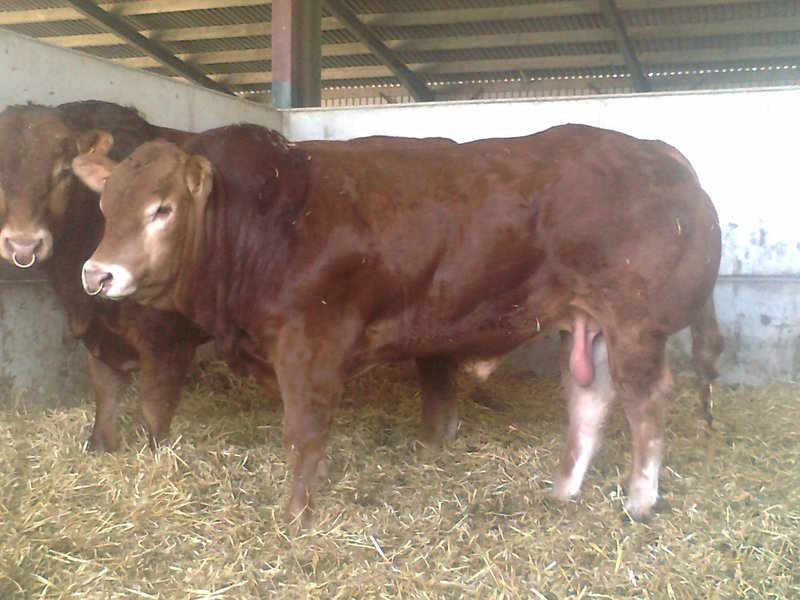 DOB: 20/10/2009
Sire: Wilodge Vantasic
Dam: Grahams Virtue
Sold privately for £7000 to JF Teague, Buteland Farm, Balerno, Edinburgh.
Elderberry Einstein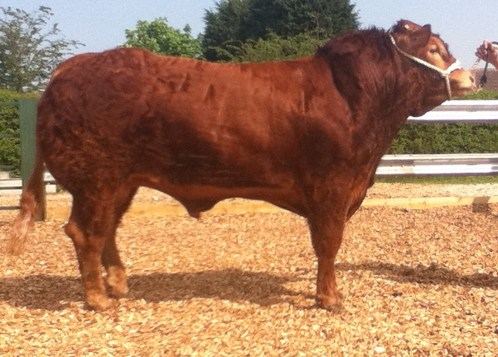 DOB: 30/07/2009
Sire: Wilodge Vantastic
Dam: Middledale Urge
Sold 2,600gns to Messrs Priestly, Hill Top Farm, Denholme, Bradford for their Brontemoor Pedigree Herd.
Elderberry East Yorkshireman - ET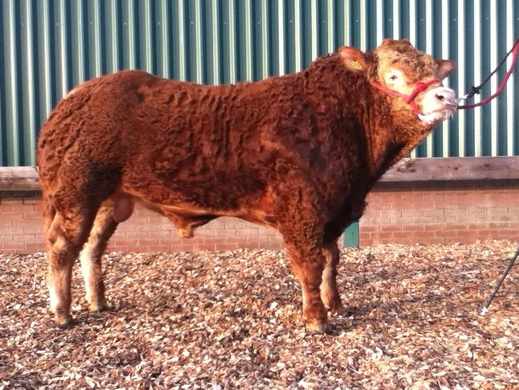 DOB: 21/7/2009
Sire: Wilodge Vantastic
Dam: Sherry Uricka
Sold Carlisle Feb 2011 for 5,000gns to M Stephenson, Balcaimie Farm, Dailly Girvan, Ayrshire.
The above is merely a selection of the young bulls we have sold over the last few years however we would like to wish to ALL our bull customers the best of luck with their purchases.